Today I have an outfit post. I wore this outfit a few days ago. I just put on the top, and I looked over to my chair(Yeah, I'm kinda messy, and by kinda-I mean very. Most of the clothes I wear are sitting around somewhere in my room.) and then saw the skirt, and I instantly realized how perfect they would look together. It was great, because I had been trying to think of different ways to wear the skirt, so I could incorporate it into my wardrobe more often. This outfit was just a one of those wonderful things, that just fall into place on their own, almost like it was fate. :)
Top- Ross, Skirt-JcPenney's, Shoes(Not Shown in This Picture)- Rack Room Shoes??(not a 100% sure, but I think so)
I just love how I look in all of these pictures, I feel so girly and pretty. :)
The skirt is actually a little longer than this, but I had to stand up on my tip-toes, so that the sink wasn't blocking the bottom of the skirt.
Excuse my ugly feet, and that amazingly cool gadget of an automatic hand-soap dispenser. ;)
These are my trusty shoes, I practically live in them.
These last few photos my shirt is tucked in. I just tried it out to see how it looked, and it turns out, I like it that way much better. It helps to cinch in my waist to create an hourglass shape.
I love this pic of me, definitely a favorite. :D
On a final note, I'd just like to say, rest in peace, to the great British singer Amy Winehouse. It's unfortunate that she died so young. She will be greatly missed. In her memory, Vevo has a play-list of some of her songs, the link is
here
. Also, if you want more information on her death
here's
a link, the last six or so posts are about her death. And
here
, is another good article to read on her.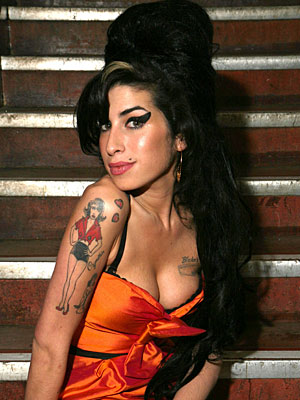 R.I.P.- Amy Winehouse- September 14th, 1983- July 23rd 2011
Photo Credit: People.com